NMC Residence Halls provide a bridge to independence by building experiences that support your academic, social and leadership development.
PHOTOS
Explore the East Hall further by visiting our photo gallery.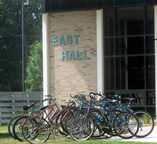 East Hall
The residence hall can house approximately 200 students providing a bridge to independence by providing social, academic and leadership experiences.
Why live in East Hall?
Wireless internet and cable television
Walk to beaches and downtown
Study rooms and quiet hours
Fun and fellowship
Academic Support
Housing Rules
East Hall is located by Chestnut Parking Lot off College Drive. Parking is free.
The door to East Hall will be locked. Follow walkway to front of building and the yellow sign on door has instructions on
how to use the call button. Someone will buzz you in.
The residence hall is set in a suite arrangement, two rooms housing two people each and connected by a shared bathroom.
Each room has two twin beds, desks/chairs and dressers. If you bring your own TV, 64 channels are available through cable.
There is a microwave, television and computers available for use in the lobby. Laundry facilities are also located on site.
Residence hall rooms are not air conditioned so bringing a fan may be helpful.
Meals are NOT included. Microwave, small refrigerator and coffee makers are allowed. Pets are not allowed.
Free wireless internet is offered. Complimentary bikes available for use.
Quiet hours will be enforced from 11:00 pm to 8:00 am daily.
NMC Residence Hall is a drug and alcohol free environment. Possession of these substances on campus is strictly prohibited.
A violation will result in immediate dismissal from the residence hall without refund. Those dismissed from the residence
hall will not be allowed in the living areas and will be prohibited from future on-campus housing.
I agree that my liability for this bill is not waived and agree to be held personally responsible in the event the indicated
person, company or association fails to pay the full amount of any charges or damages.
I agree to depart accommodations by check out time and on the date indicated.
I understand that the management of this facility reserves the right to refuse services to anyone.
I understand that Northwestern Michigan College will not be responsible for accidents or injury to guest or for loss of
property or values. I also understand there will be an extra charge for lost key, access card or damaged items.
I understand that I must abide by and adhere to the policies and procedures set out by NMC. I understand smoking and
consuming drugs/alcohol is prohibited and could result in removal from the Northwestern Michigan College campus. Entire
campus is tobacco free.